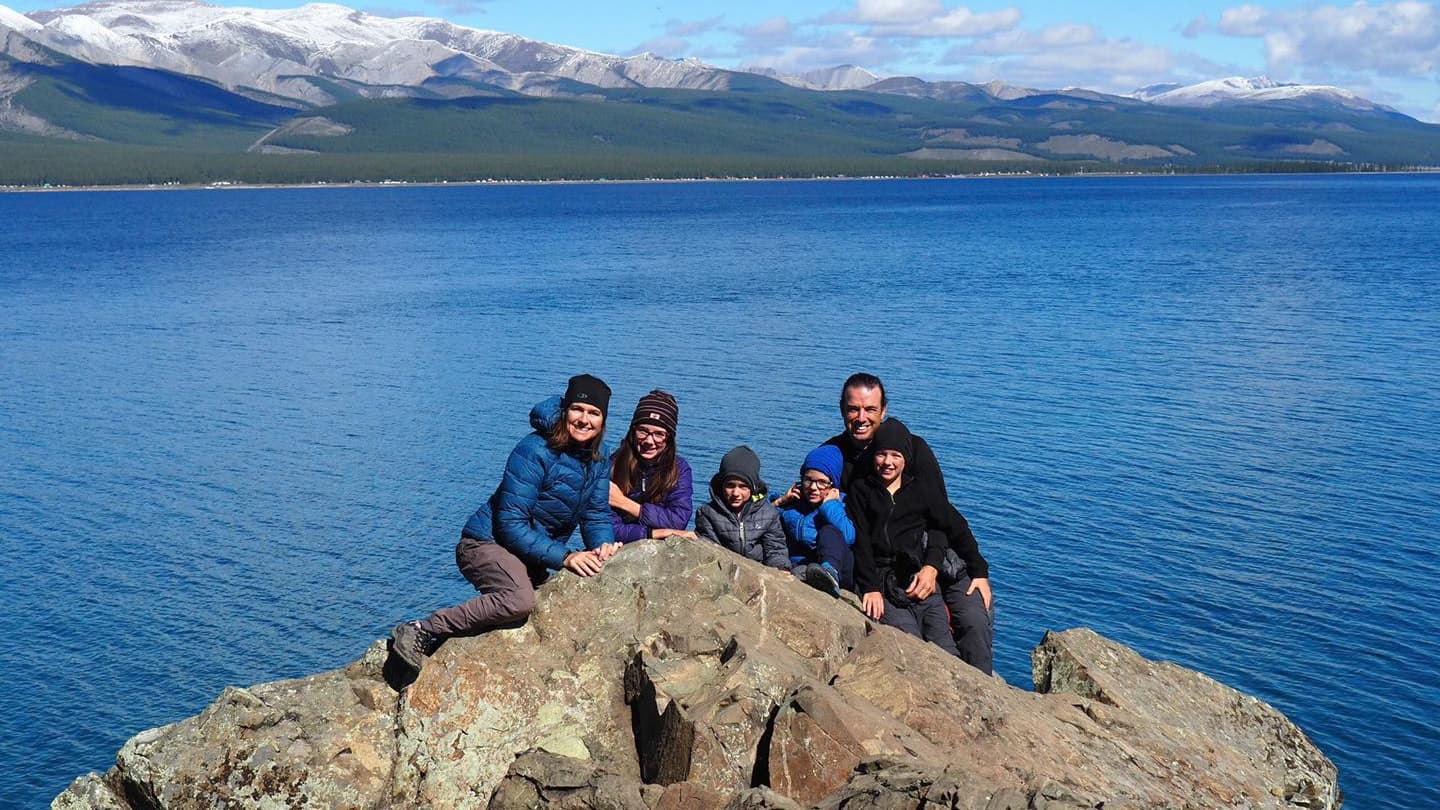 Before their children lose their sight to a rare genetic disease, a Canadian family travels the world. The mother, Edith, tells BFMTV.
See the world before you lose your sight. This was a Canadian family's crazy project for several months. Originally from Toronto, the family flew away in March for a year-long round-the-world trip.
Edith and Sébastien have four children. A few years ago, their eldest daughter, Mia, was diagnosed with retinitis pigmentosa. A few months later, the family learns that Colin and Laurent, aged 7 and 5, also have the rare genetic disease.
"It is a degenerative disease of the retina and they will gradually lose their sight. It was obviously a shock to me," the mother tells BFMTV.
"See the world through a straw"
This very rare disease affects about one in 5,000 people worldwide and is incurable. Reduces the field of vision during life.
"Towards the end, they say it's like looking at the world through a straw. It's something that can go very fast or very slowly, you don't really know how long it will take," Mom explains. .
"Fortunately with my children, it seems to be quite gradual, not very fast. For the moment their vision is good during the day, but as soon as the light goes down they become completely blind."
When she discovers that her children will lose their sight, the Canadian sets out to search for solutions. "I looked for tools to help them live with this disease. One of the ideas was to let them learn brail, but I was told it was too early, a worker told me to fill their visual memory. And that's something I can do. ".
"A little boost of life"
But both parents want to go beyond showing pictures in books. "I said to myself, I really want to see elephants in real life. I will fill their visual memory with the beauties of the world," says Edith.
A year later, the family plans to go around the world. The idea is to "show the beauties of the world" to the three children, before they lose their sight. The two parents organize themselves economically, save money and find "a little help from life".
The company where Sébastien works is bought, "because he had shares in the company, he makes us earn a lot of money to be able to go on a trip".
Namibia, Zambia, Tanzania …
The two parents and four children were supposed to leave in July 2020, but the Covid pandemic decided otherwise. By dint of patience and reorganization, they managed to leave last March, headed for Namibia. Then Zambia and Tanzania.
"We really crossed Africa from east to west, with trains and buses, it was a great adventure", the Canadian cheers.
The small troop, which shares every stage of its journey on social media, then leaves for Turkey and Mongolia. At this time, they packed their bags on the island of Bali in Indonesia.
Requests
In addition to sharing their photos, experiences and encounters, parents share their questions about their children's incurable disease.
"Here, without warning, Laurent just asked the question that hurts:" What does it mean to be blind? I knew he would come, but we're never really ready, even if it's the 3rd time, "they write on Facebook.
But beyond the questions, Edith also talks about the pleasure of traveling with her children. "Being children, they are in the moment. The little things will amaze them. You can reach a beautiful tourist spot and they will roll in the sand," she laughs. "We also see the world through their eyes".
home school
In terms of organization, the four children attend school with their parents. "We really take care of the basics: French and mathematics as there are only one year left. We focus on the essential subjects, especially as they will learn a lot during the trip."
And for the journey Edith can count on her husband, an "extraordinary planner". The trip is planned a month in advance, "not everything is planned with the restrictions changing all the time," she says. A plan that allows you to "calmly" decide on future destinations.
Edith, Sébastien and the four children, who are already halfway through their trip, are currently enjoying the Balinese beaches. They plan to stay about two months in Indonesia to discover the islands of Lombok, Gili and Komodo.
"Then, we'll go up to Malaysia and Southeast Asia, but after that it gets a little more vague," cheers the mother. Many adventures to follow on social networks.
Angelo Chatelier and Pauline Boutin