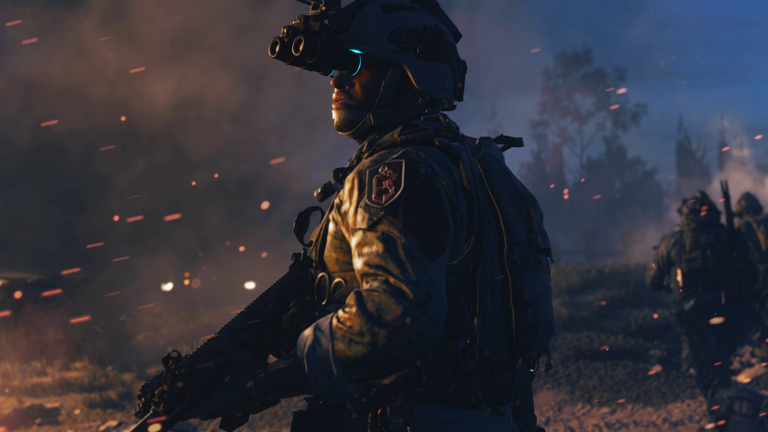 Game news Call of Duty Modern Warfare 2: "There are about 100,000 sounds" – Audio director tells us
The release of the next Call of Duty Modern Warfare 2 is fast approaching – October 28, 2022 – and news about it is growing. For our part, we were able to discuss with Stephen Miller, who oversees the entire audio portion of the project. What to learn, of course, new things about FPS as well as everything related to recording sounds in a video game. So, if you want to know all about it, don't move. Let's start the interview.
As for the sound in Modern Warfare 2, what is your philosophy? Have you recorded everything yourself or have you ever reused the sounds of old games?
Stefano Miller:
"It's a mix of different things! Simply because there are about a hundred thousand sounds (in Call of Duty Modern Warfare 2, ed) and changing everything would be a difficult task. But we still change almost everything. The atmospheres of the levels are generally new, the weapons, the explosions. We try to update everything that is the signature of the series. We are also making small updates for the night vision. The sound in question always seems the same, but this time with a bit of general freshness ".
To record the sounds, go on "reconnaissance trips" with your team. Can you explain the importance and role of these trips in your work?
Stefano Miller:
"When we go on a reconnaissance trip, we mainly look for a sonic signature of a given place. When we record weapons and explosions, we make sure that the area is not too flat, that there are reliefs, topography, so that the sound bounces all over the place. If the area is too flat, there are no low frequencies in the recording ".

"But otherwise, first of all, we want to know how calm the area is. Because the sounds we record have a very long tail. If it's a great sound, like an explosion or a sniper shot, the sound really lasts a long time. We usually record 20 seconds after the shot itself. We seek the smallest information. There are bugs, a lot of air traffic, we can hear from the highway nearby. The microphones we use are often very sensitive, so even if there is a low traffic road, you can hear it 3-5 kilometers away in the recording ".
Do you ever borrow files from professional audio banks?
Stefano Miller:
"It depends on what sound it is. For example, we recorded most of our vehicles (…) the same for the weapons, the movements of the characters. We try to record everything we can. But there are things we obviously have to borrow from sound banks, things we simply don't have access to. There are weapons in the game that we cannot legally have, which for example have not been imported into the United States. So let's try to find sounds that come close to what we are looking for (…) in particular thanks to less modern weapons. In any case, we really want to record as many things as possible, whether it be us directly or with the help of an external service provider ".
After years of making Call of Duty games, have you found new tools and techniques to make the franchise even more realistic?
Stefano Miller:
"From project to project, we always try to improve. We discover things along the way that we may not necessarily use at the time but that we set aside for the future. Be it recording techniques, new microphones, new recorders arriving in the middle of a project. Stewart, who deals with the sound of all guns, is always looking for new things and techniques (…) he Goes to the pros to ask questions! How does this mechanism work (for a weapon, ed)? He is learning everything he can so that we can recreate it as faithfully as possible, with a Hollywood touch. "
"With a Hollywood touch", does that mean you modify certain sounds?
Stefano Miller:
"There are things in the game where we use more Hollywood techniques. It can be a jet that goes through the air with a kind of "scream" (…) It adds an organic side to a rather clinical base sound and emotion to certain things. "
Can you tell us about the new audio technologies used in Modern Warfare 2?
Stefano Miller:
"We have new technologies in the game that are worth mentioning. There is a new system of inclusion: when a noise comes from outside a building from inside a room and you are outside, the sound will be integrated in a natural way. We also have a whole system to record the reverb of a room we like, to include it very easily in the game. "
What differentiates the sound creation of the single player and multiplayer campaign?
Stefano Miller:
"There are a lot of sounds shared between the two. In general, the steps (…) all the sounds of weapons, grenades, to create a kind of universe in which the game lives, but in terms of the campaign there are many "custom" things for special moments – such as those in slow motion , in slow motion. For the solo, we generally have much more control, in the linear framework that is a videogame experience (…) We can for example anticipate a scene, lower the ambient sound because an important moment is coming, set the stage for great music. . While in multiplayer everything is systemic (…) so that as soon as the player does what he has to do – whatever it is – it works as it should ".
In Modern Warfare 2, is there a scene you are particularly proud of when it comes to audio?
Stefano Miller:
"I have to avoid spoilers about this (laughs). In this Modern Warfare 2, there are absolutely fantastic moments, both in the cutscenes and in the game, where the music comes at the right time. For me too, after seeing everything take shape from start to finish, there are always moments that give me goosebumps. "
Have you used technologies like the famous 3D Audio on PlayStation 5?
Stefano Miller:
"We use different audio technologies across platforms, including 3D audio on PS5. For sure, it's a different experience than with stereo sound ".
A final word about your work as an audio director on Call of Duty Modern Warfare 2?
Stefano Miller:
"As a team, our goal is to achieve the best possible result. We want the player to enjoy every moment: feel the power of a weapon, be afraid when you approach a place, when you feel debris falling. All we do is create the best possible world to play in ".