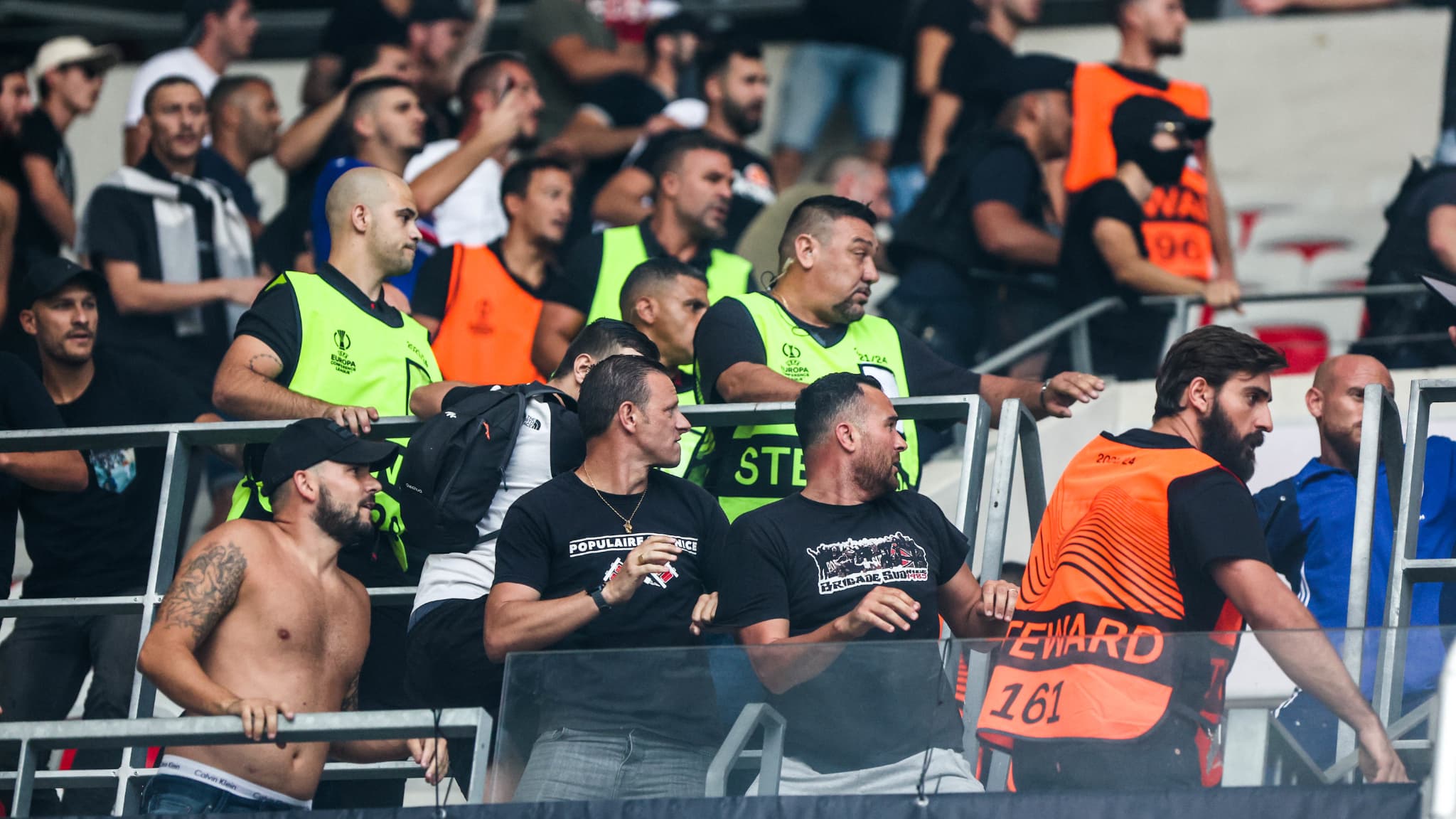 A steward present on Thursday at the Allianz Riviera, during the Nice-Cologne match of the Europa League Conference, recounts the violence committed by German fans in a frightening testimony on France Bleu Azur.
He experienced the chaos up close. A steward spoke about the violence between fans last Thursday before the start of the Conference League match between Nice and Cologne (1-1). Things got out of hand when the German fans left the parking lot to face off against Nice at the other end of the stadium.
"They come in, they sing, some were already removing the Uefa banners to hang them," says Francis, whose name has been changed, on France Bleu Azur. We open the doors (of the stadium, ed), we proceed quietly but after 20 minutes we begin to hear screams, people running and calling us saying: 'they are coming, they broke everything'. We look back and see the German fans at the level of the lounges and boxes. "
>> Sign up for offers from RMC Sport to watch the Conference League
Former members of Supras Auteuil, a PSG ultras group disbanded in 2010, have also been infiltrated with Cologne fans. "We only knew later," explains the administrator who claims he has not "heard" of French.
Francis was on the Nice side. "We are not afraid, we try to secure and prevent people who want to meet the Germans," he explains. The people of Nice were starting to enter the stadium, there were mainly women, children, families. We try to keep the people of Nice so they don't go to the other side. It is complicated, there are many, we are few of us. Other stewards try to repel the Germans, then the police arrive and throw tear gas, it's complicated, you don't see much ".
"I don't think you get paid to have a knife between your shoulder blades or a stake between your eyes"
The steward also went back to videos showing some of his colleagues abusing German fans. "We are attacked, they throw smoke bombs at us, iron poles, remember. It's a bit of our life against theirs. We have to save our skin there. If we fall into their camp, we have a bad time. I don't think I get paid to have it. a knife between the shoulder blades or a pole between the eyes ".
A survival instinct all the more guided by the modest compensation received for a game. "They pay us 50 euros for the service, he reveals. I have the impression that, in this game, it was the price of a steward's life. The price of a steward in these high-risk games? I don't know." The toll of these clashes is 32 wounded, including one seriously injured after falling from a five-meter high grandstand.