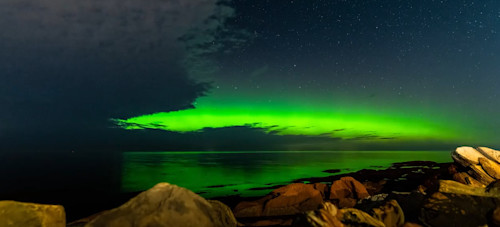 ---
The Northern Lights arise from the interaction between solar wind particles and the Earth's upper atmosphere. The different colors that make up the auroras are explained by the composition of the solar winds. Thus oxygen will give green and red tints, while nitrogen, for example, will color the sky with blue, red and purple.
Since the poles will act a bit like a magnet, attracting these atoms, it is usually much easier to observe them close to them. Although it is easier to see them beyond the 65th parallel, some special conditions may allow them to be seen in lower latitudes. However, the solar flares must be particularly powerful for this spectacle to make its way through the skies of the southernmost regions.
This is likely to be the case for the next couple of days. Some regions, such as Saguenay-Lac-Saint-Jean and Gaspésie, are particularly well suited to be entitled to an amazing spectacle. A Kp index of 5 is on the radar for the next two nights, which corresponds to a minor solar storm.
---
Good to know : The Kp index is an indicator of geomagnetic activity, ranging from 0 to 9. It is often used to determine the probability of observing auroras in different given regions.
---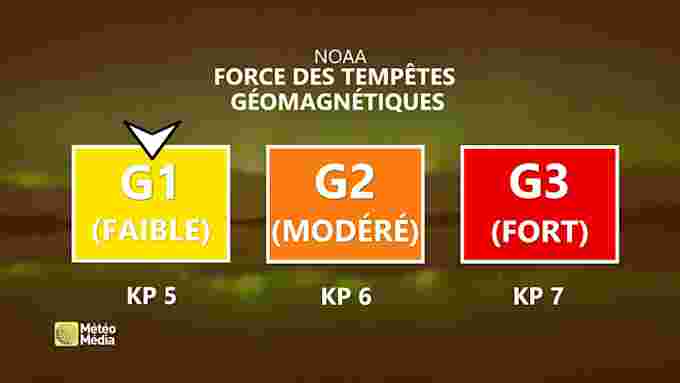 Clouds could complicate observation
The presence of clouds in the night sky, however, could mask the Northern Lights. The night from Saturday to Sunday will be particularly difficult. The show could therefore be significantly reduced for all of southern Quebec. In spite of everything, if a thinning takes shape, it will perhaps be possible to see auroras …
Sunday through Monday night may offer better opportunities in the more northerly areas, where colored sails are more likely to light up the sky.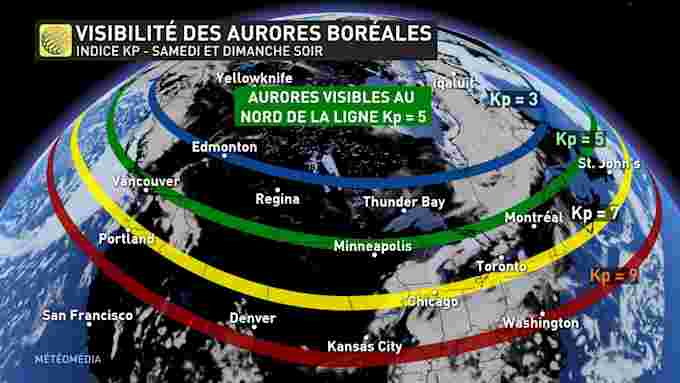 Optimal conditions occur between 9pm and 2am, in a place away from light pollution.
September and October are among the best months to see the Northern Lights.
Some tools for observing the Northern Lights:
Space Weather Canada, to see if geomagnetic activity will be enough to create auroras
Planetary K-index, from NOAA, to check if auroras will be visible from Quebec or Montreal, for example (if the k-index exceeds 5, this will be the case)
---
SEE ALSO: The sky of Abitibi full of auroras despite the clouds