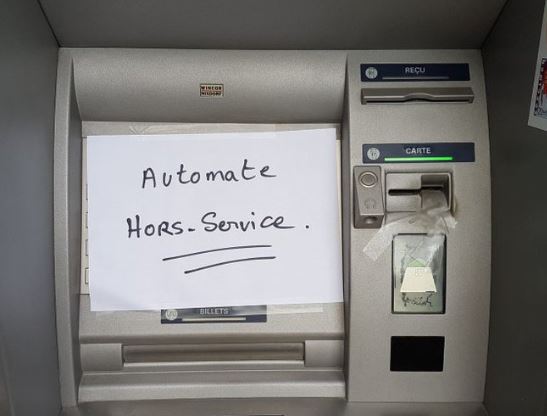 My darling impertinent, dear impertinent,
This is an article sent to me by our comrade Christophe, the official correspondent of our friendly community in Germany. I appointed him as an official volunteer so let's not insist too much!
In short, Christophe still found damn relevant, and I share his opinion, to examine this history of power outages and the effects and impacts of those power outages on the banking system in particular and the financial system in general.
And that's a damn good question that you will notice the absence of in our media.
In France, you shouldn't be as interested in what you are told, as in everything you are not told.
Silences say more about the risks.
In Germany, the relationship is clear, sharp, precise and flawless.
"The imminent power outages put the functioning of European banks at risk"
In France, no problem.
Each bank branch has a generator to power the ATM, the cash dispenser, in the event of an emergency.
Each agency has its own backup system so that all computers work and that public reception is possible under all circumstances.
Finally, all data is hosted in ultra-secure data centers with full energy redundancy which allows these sites to last for weeks without an external power supply.
But no, I'm kidding!
We have none of this!
Hahahahahahaha.
There is no more redundancy of generators in your local branch.
When the power is turned off, it will be turned off for all banks.
You won't be able to withdraw money from the ATM any more than you can make an Internet transfer because nothing will work!
Do not imagine that you will use the application of your smartphone. The relay antenna in your neighborhood will also be in the dark, and if by some miracle it runs on battery for a few more hours, the networks will be totally saturated.
Hahahahahahaha.
Life in 2022 without electricity is like saying.
How do you find an analogy.
It's kind of like the Amish, back to carts and cash.
Well, all the cash registers in supermarkets will be HS, so you won't be able to pay more in cash than by card. But let's say that with a little money you could be able to buy country bread at the local bakery, but even that is not easy.
Let's give the floor to this German article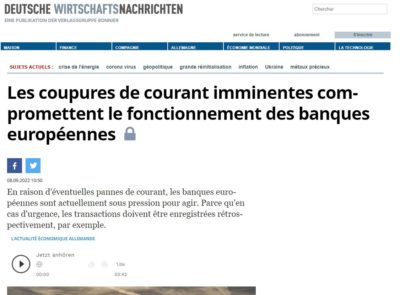 "Due to possible power outages, European banks are currently under pressure to act. Because in an emergency, transactions have to be posted retrospectively, for example.
Impending power outages put the functioning of European banks at risk
Banks in Europe need to prepare for expected power outages due to the energy crisis.
Read this article:
Why European banks are preparing contingency plans
How unprepared banks are for longer blackouts
How a bank failure would send the entire economy into a downward spiral "
Due to possible power outages, European banks are currently being forced to act. In the event of an interruption, for example, transactions must be posted retroactively.
Due to the importance of payments and transactions for the European economy, already hit by inflation and the energy crisis, the pressure to act is strong for financial companies. Supervisors are on high alert.
The European Central Bank and the UK's Prudential Regulation Authority (PRA) require credit institutions to have contingency plans in place to address possible energy shortages.
Experts fear that hardly any plant is prepared for prolonged power outages of more than a few days. "This represents a major gap in resilience planning," says Avi Schnurr, director of the Electric Infrastructure Security Council, a think tank that advises on preparations for such risks.
"This represents a serious gap in resilience planning"
Hahahahahaha, I haven't laughed so much in a long time. At least since yesterday, since our mamamouchi are at the top of zero (it's like courage but less).
A gap in resilience planning.
Ahahahahahahahahaha.
They are just totally overwhelmed.
"When the events are beyond us, we pretend to be the organizers. "
They don't know how to do better than that.
So take out your cash, buy toilet paper, have enough to warm up a meal (camping gas) because cold canned dumplings aren't terrible and take charge of your energy, economic, professional resilience, etc.
Don't expect anything from the state.
It will always be too little and too late … and with your money!
Go one last time down the street.
It's Friday, you need to have a whole weekend of fun.
«The Swiss insurer Zurich wants to take measures to save energy so that customers don't notice, if possible. In this case, for example, only certain floors of the buildings could be used, the group explained. Only some offers would end – "for example the fitness room for employees".
Yes, yes, my friends. To save us from global warming, mum Michèle, who as everyone knows has lost her cat, has to throw the box of nuggets into the yellow basket, while the Swiss insurance employee from Zurich will stop training between noon and two to save the Europe from the power of failure.
Ahahahahahahahahahahaha.
There are also the energy ukases of our president Thermostat and Thermolactyl. Turn off the wifi guys.
Ahahahahahahahaha.
We'll have fun. We'll curdle, but we'll have a good laugh.
It is already too late, but all is not lost.
Prepare yourself!
Carlo SANNAT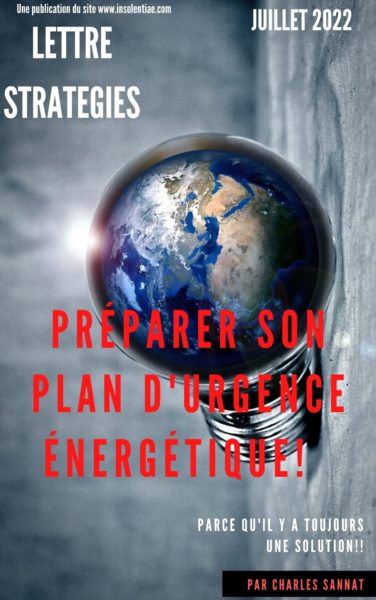 "Insolentiae" means "impertinence" in Latin
To email me charles@insolentiae.com
To write to my wife helene@insolentiae.com
You can also subscribe to my monthly newsletter "STRATEGIES" which will allow you to go further and in which I share with you the concrete solutions to be put in place to prepare you for the next world. These solutions are articulated around the PEL approach: wealth, employment, position. The idea is to share with you the means and methods to implement your personal and family resilience.
"To suffocate peaceful revolutions, violent revolutions are made inevitable" (JFK)
"This is a 'presslib' article, ie exempt from reproduction in whole or in part provided this paragraph is reproduced after it. Insolentiae.com is the site on which Charles Sannat speaks daily and offers a sassy and uncompromising analysis of business news. Thanks for visiting my website. You can subscribe for free to the daily newsletter on www.insolentiae.com. "