The channels of the TF1 group are still blocked in several thousand houses. Canal + refuses to give in to pressure from TF1, despite appeals from the government.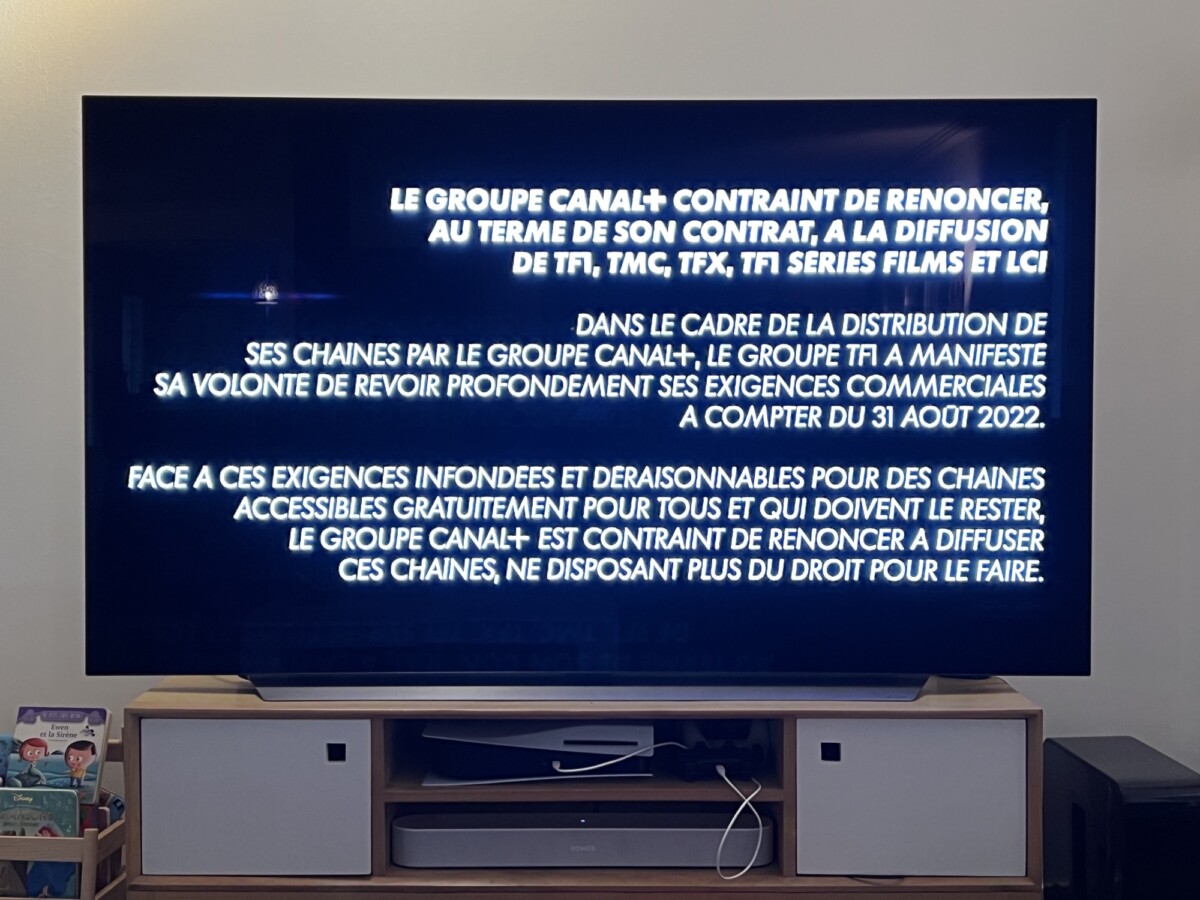 As we specified last Friday, 2 September 2022, subscribers to Canal Plus services will no longer be able to access the various free channels of the TF1 group within their offers.
You will not be able to watch TF1, TF1 Séries Films, TMC, LCI and TFX channels, either on a television via a decoder, on a smartphone via the myCanal application or from a computer via Canalplus.com.
TF1 takes note
The TF1 group obviously reacted to this block, hoping to quickly find a favorable outcome:
"Although the TF1 group is distributed by all distributors FREE, SFR, Bouygues Telecom, Orange, Molotov and Salto, Canal + did not want to conclude a new distribution agreement for the channels and services of the TF1 group despite weeks of discussions and negotiations, choosing to deprive their subscribers of the channels and services they pay by subscription (…) The group TF1 remains open to discussions in order to find an agreement quickly so as not to further penalize the millions of viewers who receive the group's channels through Canal +. "
TF1 also answered some questions to Franceinfo, mentioning a 15% drop in audience after the blockade. The Journal de 20 heures would have been surpassed by that of France 2.
🔴 LIVE – 🗣 Canal + has not broadcast the channels of the TF1 group since Friday ➡️ "First of all, I would like to tell our viewers that we are sorry. We are like them taken hostage by Canal's decision ", reacts Didier Casas, general secretary of the TF1 group. pic.twitter.com/A07ndQMIGD

—Franceinfo (@franceinfo) September 5, 2022
The government shudders
The government also took the time to send a message to the Canal Plus group. Through the Minister of Culture, Rima Abdul-Malak, it refused to interfere in this trade dispute. However, this did not prevent the Canal group from being called on appeal "to its sense of responsibility and general interest to avoid depriving hundreds of thousands of homes of reception of all DTT channels".
Maxime Saada, chairman of the board of directors of the Canal + group, spoke with the JDD. The TF1 group would have asked "a 50% increase for access to the same content as today".
It should also be noted that this block is carried out as part of the merger between M6 and TF1. This set would weigh 75% of TV ad revenue and could require even more money from distributors like Canal +.
---
To follow us, we invite you to download our Android and iOS application. You can read our articles, files and watch our latest YouTube videos.