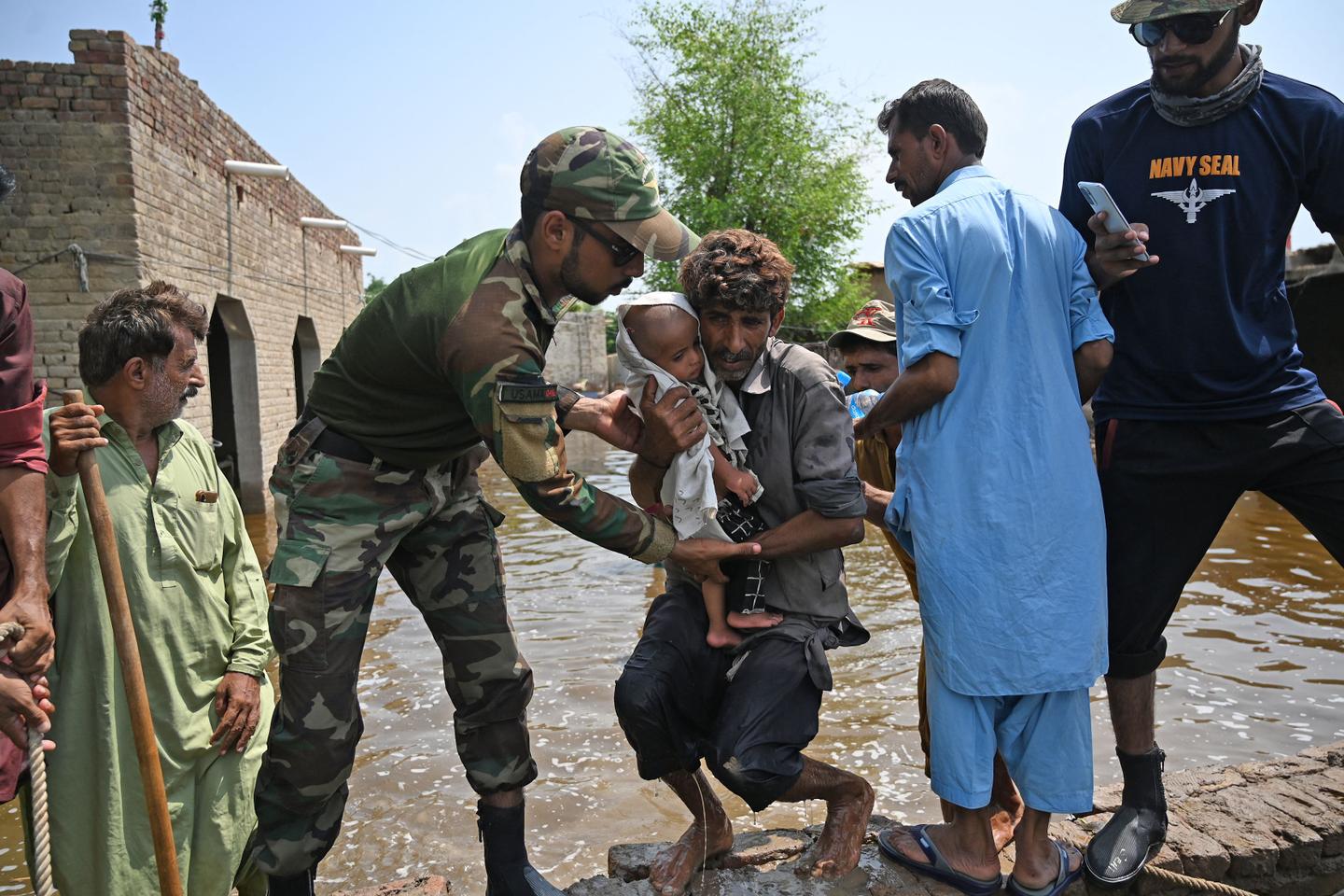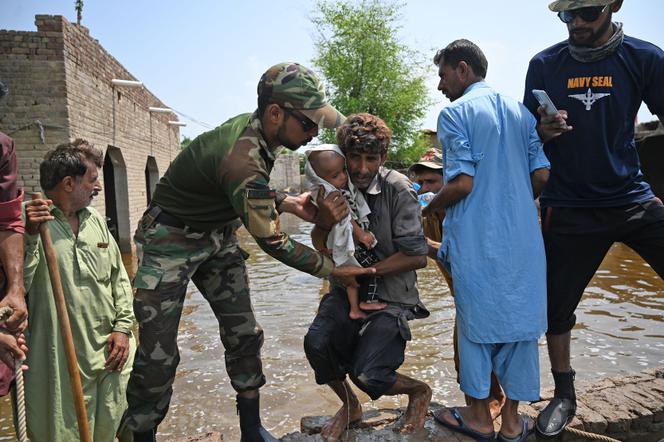 It is a fundamental refuge cut off from the world. A stretch of road, broken at the sides, which holds firm in the midst of vast bodies of water. Dozens of families from the surrounding villages, completely flooded, have failed here, on this piece of road that until recently connected the city of Larkana to that of Shahdadkot, in Sindh. This southern province of Pakistan is one of the hardest hit by the floods that have ravaged the country for weeks.
To reach this camp you have to embark where the road was interrupted, on a canoe consisting of a spring mounted on three barrels. Even the tents, built in haste and fury, were built with the means available: sheets tied on simple wooden sticks planted in the ground. In their escape, some refugees managed to take theirs with them carp, these woven beds, traditional in South Asia. "Our fate is in our hands", regrets Pyaro Khan, a lanky 50-year-old farmer dressed in a long white kurta. Everywhere, similar makeshift shelters are set up along the streets.
Airlift from Dubai
In August, a real flood hit the area, forcing residents of the villages of Noor Khan Seelro, Shahi and other surrounding towns to leave their homes quickly. Not since 1962 has Pakistan experienced such a rainy August. Sindh province alone received seven times more rain than usual, according to data from the Pakistani Meteorological Department.
"We were afraid of drowning, the water had reached more than 1 meter"says Pyaro Khan, who fled in the middle of the night. "It kept going up, we left when our house started to collapse", Rahim Bux, a farmer from a nearby village, abounds. No alert mechanism worked; all that remains of his house is the heavy wooden door on which his hand-painted surname appears. And ruins, in standing water.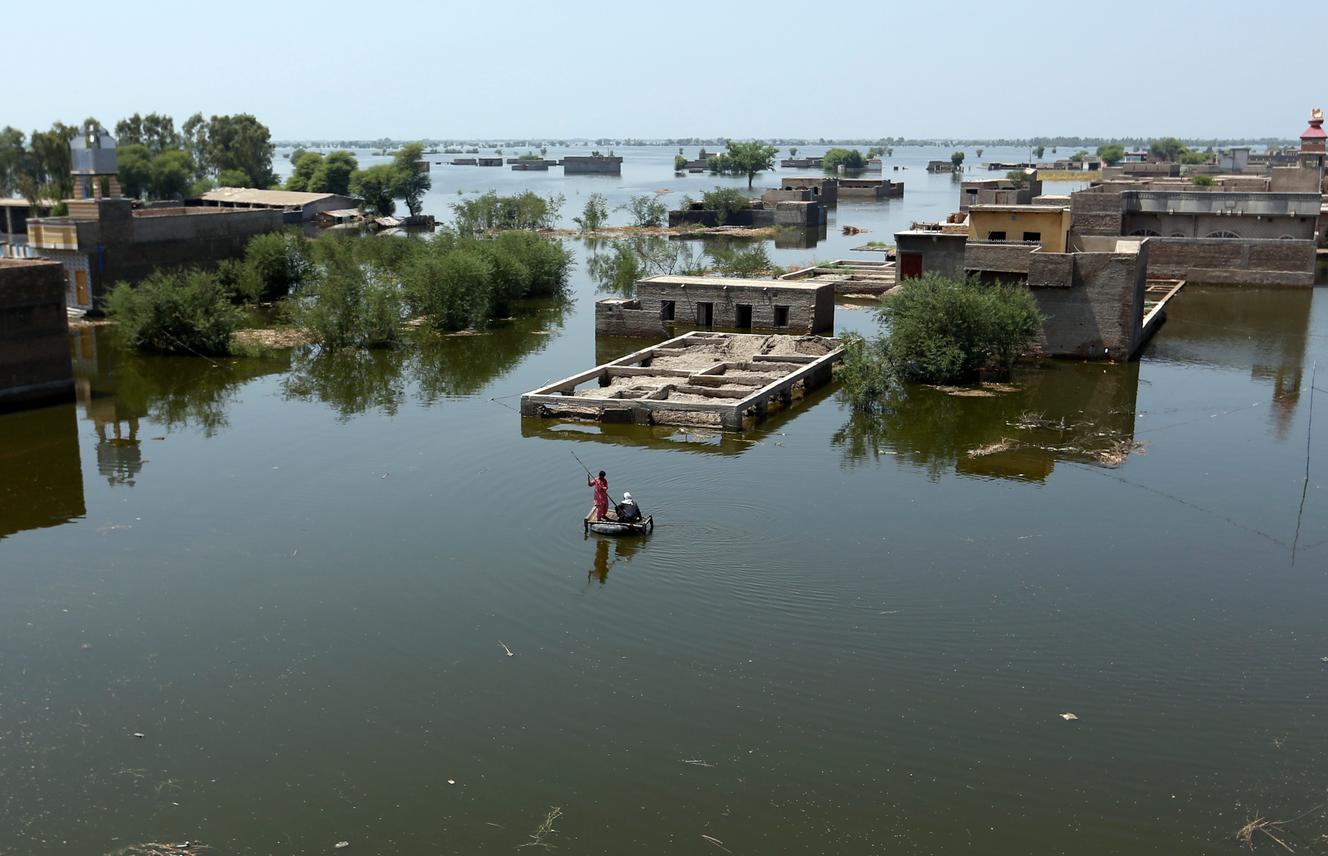 Nationally, the toll is catastrophic: over 1,300 people have died and one in seven Pakistanis have been affected by these floods. Nearly two million homes have been damaged or destroyed since mid-June, including nearly 1.5 million in Sindh alone. The province is underwater: seen from the sky, it looks like an immense lake from which some mounds of earth emerge here and there.
Read also:
Article reserved for our members

Pakistan devastated by floods for three months
In the northern part of Sindh, more than half a million people are displaced. The United Nations High Commissioner for Refugees (UNHCR) has set up an airlift from Dubai to help people in the most affected areas, such as Larkana. "Assistance to people who have been forced to flee their homes and who are in urgent need of help has so far been very limited"said Indrika Ratwatte, UNHCR director for the Asia-Pacific region on Tuesday 6 September.
You still have 69.54% of this article to read. The following is for subscribers only.